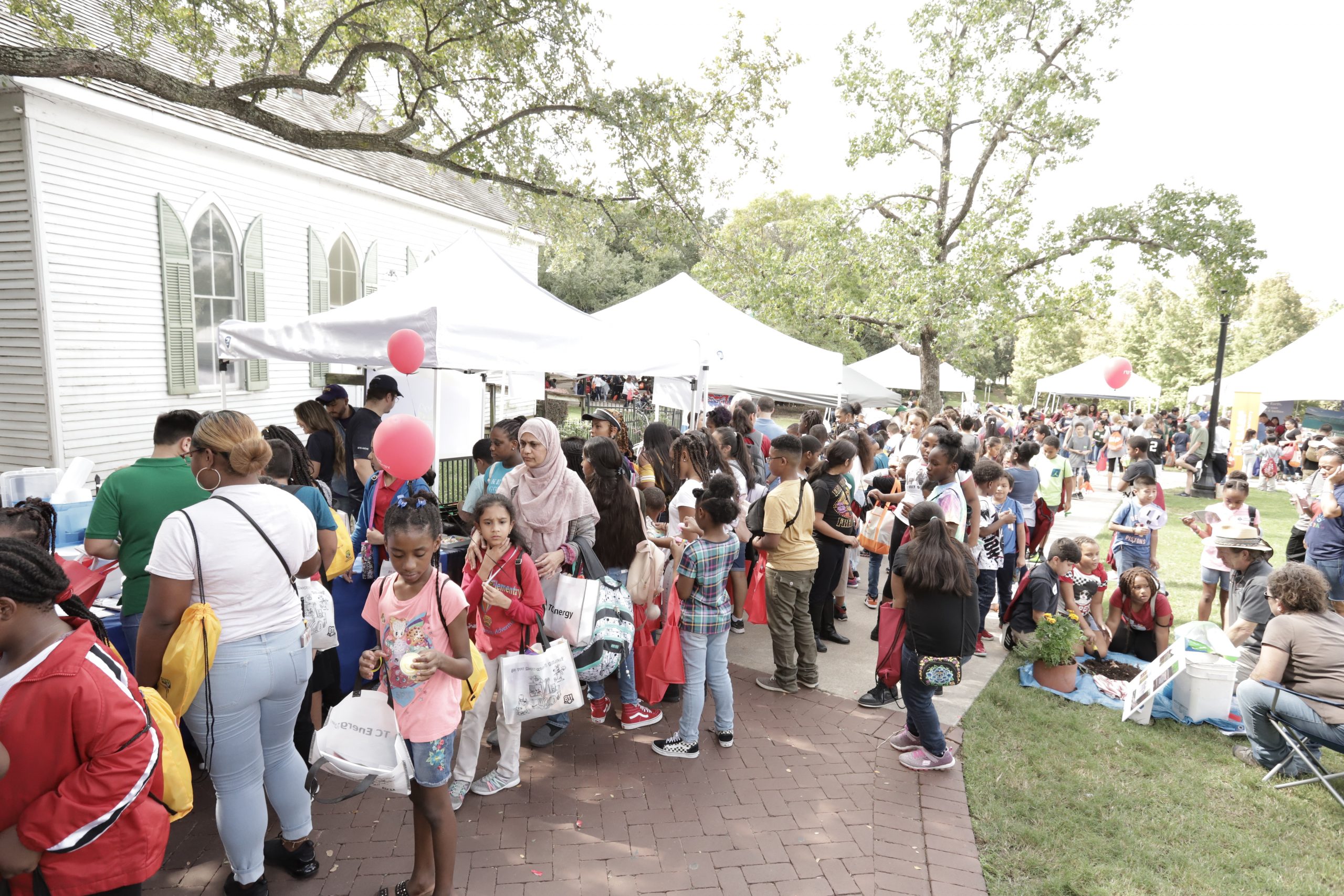 Mayor Sylvester Turner surprises attendees to show support for the city's largest industry and its future leaders
HOUSTON – Oct. 19, 2019 – Families, students, educators and energy industry leaders gathered at Sam Houston Park in downtown Houston today for the ninth annual Energy Day Festival, hosted by the Consumer Energy Education Foundation (CEEF) and its partners at Consumer Energy Alliance (CEA). In addition to the 27,000 people who got in on the free family fun, Houston Mayor Sylvester Turner surprised attendees at Energy Day by getting hands-on with the city's leading industry and meeting with future STEM superstars.
"We're the energy capital of the world – not just here in the United States but the world. STEM has been vital to our growth," said Mayor Turner.
Energy Day – the largest energy-focused festival in the nation and the biggest free fall festival in Houston — centers on celebrating the importance of science, technology, engineering and mathematics (STEM) education and role these fields play in the energy industry. This year's Energy Day festival featured more than 80 interactive exhibits and demonstrations, from Houston's leading companies, such as BHP, Caterpillar, Chevron, ConocoPhillips, Direct Energy, Golden Pass LNG, Noble Energy, TC Energy Corporation, TechnipFMC and Telemundo Houston. Through the bus grant program made possible by event sponsors, more than 3,000 kids from Alief, Fort Bend, Galena Park, Houston, Pasadena, Sheldon and Spring independent school districts, as well as Harmony and KIPP charter schools, came by bus to today's festival.
Throughout the year, CEEF supports competitions in technology, computing, robotics and inventions which are awarded on Energy Day. During this year's awards ceremony, over 200 students and teachers were awarded over $23,000. Local teacher, Ms. Cathy Knauff won the John Kingsley Kerver Education award for going above and beyond to get her students interested in STEM. Other awards were given for the SeaPerch Underwater Robotics Challenge; All-Earth Ecobot Challenge; Science Engineering Fair of Houston; MATE Underwater Robotics Competition; Energy Day Art, Essay & Media Contest; NCWIT Award for Aspirations in Computing; and four different FIRST Robotics challenges. Since the Energy Day Academic Program began in 2011, CEEF has awarded nearly $130,000 to nearly 1,000 K-12 students and teachers in the greater Houston area.
Local food trucks also came out to support STEM learning by offering tasty treats and valuable fundraising support. Rocos Grill and Smokehouse, Fish Fry Mama, Hula Dog and Uncle Louie G were all serving up tasty treats and plan to donate a portion of their Energy Day proceeds back to directly benefit educational programs for local students. Energy Day also had a new volunteer partner this year. The Mission Continues, nonprofit empowering veterans to continue their service and create positive change in their local communities, sent the men and women of Houston's Third Service Platoon to support Energy Day 2019.
"It's essential for students in Houston to understand the careers available to them in the energy industry. Whether they want to become an engineer, teacher, wildlife biologist or a doctor – all of these fields fuel the energy industry and require a background in STEM education," said CEA President David Holt. "We're proud to partner with CEEF on Energy Day to ensure that kids have free access to career visioning and can discover how much fun a STEM career can really be."
The date is already set for the 10th annual event next year – Saturday, Oct. 17, 2020. Learn more about Energy Day at www.energydayfestival.org.
###
About Energy Day Houston
Energy Day is co-hosted by the Consumer Energy Alliance and the Consumer Energy Education Foundation. CEA advocates for consumer-friendly energy policies and keeps the public as well as policymakers up-to-date by providing unbiased, fact-based information on energy issues. CEEF is a 501(c)3 offering educational outreach, materials, events, activities, resources and information about career opportunities in STEM and energy fields as well as the importance of energy, conservation, and efficiency in daily life. Learn more about CEEF at www.ceef.org or on Instagram (@ceef_stem) and Facebook. More on Energy Day can be found at www.energydayfestival.org and on Instagram (@energyday), Twitter (@energydayfest) and Facebook.
Media Contacts:
Liz Baker, Thompson & Co. PR
liz@thompsonpr.com, 907-310-6100
Megan O'Malley, Thompson & Co. PR
omalley@thompsonpr.com, 409-766-0750