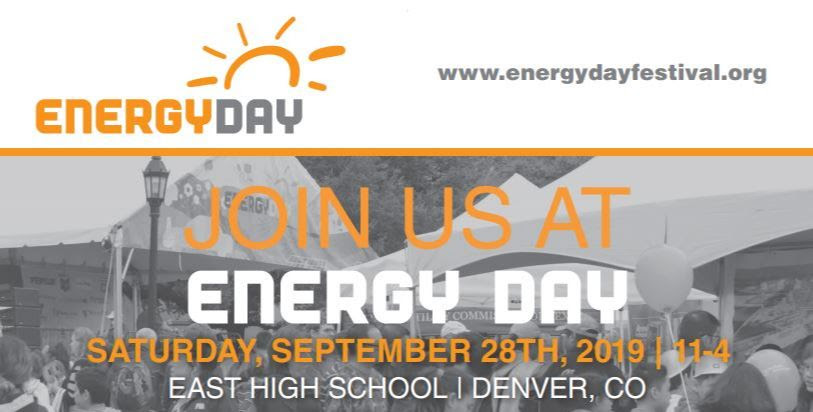 Energy Day is Colorado's first FREE family festival showcasing exhibits focused on science, technology, engineering, and mathematics (STEM) for ALL ages. Energy Day will feature exciting exhibits and interactive demonstrations that will teach students and their families about various forms of energy and how, through STEM education, they can find an exciting career in the energy industry. Come down and support our local schools, energy experts, and the amazing kids out there looking to learn and develop their skills in STEM education!
What will you see at Energy Day?
Kendrick Castillo Memorial Tournament – FIRST Robotics Competition (see below for more information)
Denver Museum of Nature and Science will be there with Rockets
National Renewable Energy Laboratory created an escape room
Children's Museum of Denver is bringing their kinetics engineering exhibit showing force and motion
Colorado School of Mines Engineering Design Department is hosting an onsite engineering design contest (winners will receive cash GC's!)
Industry professionals will be available to speak with and instruct students about career path choices
Energy Day Academic Program Awards Ceremony, recognizing and celebrating students for their hard work in Denver-area STEM competitions, will begin at 1:00
We are raffling gift cards for educators!
Freebies and giveaways will abound, so come out and celebrate STEM!
Come for FREE with a Bus Grant
CEEF and its partners are excited to offer you the opportunity to apply for a grant to pay for buses to bring you and your students to Energy Day! Please fill out this form before September 20, 2019, to request a bus grant. We award the buses on a first-come, first-served basis, and there is a minimum of 35 students required for grant consideration. For more information, see our website.
We would also love to have you fill out this form to provide you with more specific materials and lesson ideas for your classroom.
Kendrick Castillo Memorial Tournament

Combining the excitement of sport with the rigors of science, technology, engineering and math, Energy Day Colorado will sponsor the inaugural "Kendrick Castillo Memorial Tournament" – a fully sanctioned FIRST Robotics tournament that will feature 30+ high school robotics teams from around the Denver Metro Area. If you know anyone interested in robotics, this is something they won't want to miss!
And the Raffle Winner Is YOU!
Are you an educator? Do you need cash (of course you do!)? Come by the Teacher Registration/EDAP Winner booth (look for the lime green tent near the stage) to register for our raffles. CEEF, Energy Day, and our partners (like IKEA Centennial) are raffling GC's totaling $600 at Energy Day.
Please share this post with all of your colleagues, friends, and family, and like us on Facebook! If you use another social media platform, see our digital marketing guide to help us promote the event.